Scalp Micropigmentation course at Signature Academy
Scalp Micropigmentation Course.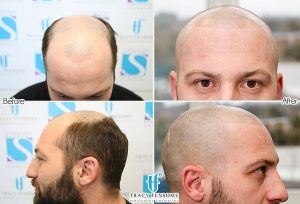 Over the last couple of years you would have heard the phrase Scalp Micropigmentation or Hair Follicle Simulation. A very popular treatment amongst both males and females with thin hair or balding areas.
Specialist pigments are implanted into the scalp simulate the appearance of follicles. This can give a look of density and definition. Scalp Micropigmentation has become increasingly popular amongst men who have areas of baldness, receding hairlines or scars.
Clients will usually need several sittings depending on the size of the area. This procedure is an excellent confidence booster and the final result can make a huge difference to the appearance.
The course held at Signature Academy will cover everything from theory and drawing to working on clients. As with all our courses you will be trained by the best trainers and have full support during and after the training.
The Scalp Micropigmentation course is available to both Beginners and qualified technicians looking to expand their skills.
Signature Academy has an excellent range of courses as well as workshops and advanced training.