If you have been researching on who you would like to do your training with, you will have noticed plenty of companies offering quick start Microblading 2 or 3 Day Courses.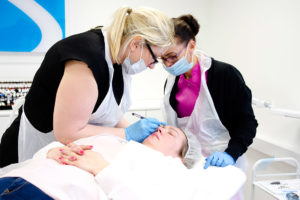 Signature Academy has had a lot of students who have been on the Microblading 2 or 3 Day Courses elsewhere.  Here is some info based on what we know and on their feedback.
Our Microblading courses are very comprehensive, they need to be to meet the high VTCT standards. This means they contain a lot of detailed and important information with all areas of Microblading. The same is true with our Permanent Makeup courses too.
Our shortest full course is 6 days (4 classroom, 1 mentor and 1 Assessment day).  They are not short days either!
When you join us our focus is for you to learn as much as you can so you become fantastic artists.  This makes us wonder what's missing from the quick-start courses and what vital information will students fail to be learning?
The adverse effect this has, is that students have no confidence in what they have been taught.  This is usually the point at which we have students contacting us.  With such low esteem in the skills they have learned, they are afraid to work on clients.  After all, they will be working on someone's face!
'Pay Cheap – Pay Twice'.  Please do your research so your not paying to attend another course.  We only  use the best and safest equipment and pigments. Cheap always means poor results or poor quality.
We never fail to get praise on how much support we offer our students, before, during and after their courses. However feedback from students who have trained elsewhere have mentioned that they have had very poor support if any and especially after the course.  Where they have literally been cut off with no further contact.   Support after a course is essential.  Ask any of our students.
Obviously this is not the case for all other training companies, but the issues have been brought to our attention for some.
Have a look at some of our permanent makeup and microblading testimonials and keep this information in mind before handing over your hard earned money.