Signature Academy will be hosting another Dermaplane training 1 Day course.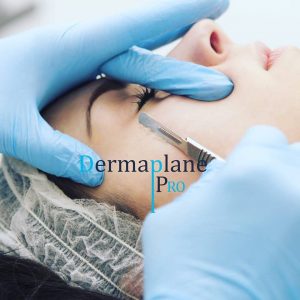 In this fast evolving industry it is important to offer your clients the best and up to date treatments that deliver proven results. In collaboration with Skin Geek, Founder  Nicola Russell we are delighted to offer you the first and best Dermaplane training the UK at Signature Academy.
Celebrities are flocking for this immediate results treatment. It is becoming one of the most popular treatments over the past 12 months.
Dermaplaning exfoliates the outer most layer of dead skin cells as well as all that vellus hair (peach fuzz).Nicola will teach you all the knowledge and skills you need to offer this safetly and effectively to your clients. They will become your regulars for the Dermaplaning Fix every 6 weeks or more.
You will learn how to use the specialist blade tool on dry skin to exfoliate and remove the vellus hair. Using gentle safe pressure it is also suitable for the sensitive skin types. This is non evasive and gentle to the skin whilst reviving and leavinga glowing skin. It is worth knowing that post treatment your clients skin will absorb up to 60% skin products allowing them to work at their optimum on deeper penetration. A good time to recommend products to your client.
Instant results – your clients will love it
They will love the effects of smooth glowing skin. Revenue from £40-£75 for 45-60 minute treatment. Consumable costs minimal.
-Removes vellus hair
-Exfoliates
-Greater product absorption
-Reduces the appearance of fine lines
-Smooth glowing skin
Cost to learn £495 plus VAT
Venue: Signature Academy, Luton, LU27XH
DERMAPLANE 1 day course 25th October, 22nd November and 12th December
Pre-Requisite: Beauty therapists level 2 up. PMU & Microblading Artists
More details and info here: https://www.signatureacademy.co.uk/dermaplane-training/